In the fast-paced world of camper manufacturing, workplace safety is of paramount importance. With the presence of heavy machinery, constant motion in the production plant, and an emphasis on output and quality, it is critical to prioritize safety measures that keep Aliner team members safe on the job.
At Aliner, we want all of our team members to go home just the way they came in – with ten fingers, ten toes, and no pain or strains. With an emphasis on proper equipment, ongoing employee training, workspace organization, and compliance with regulations, we put employee safety at the forefront of our production practices.
Advanced Equipment and Programs for Safe Operations
To ensure a safe working environment, we have invested in advanced equipment designed for efficiency and safety. For instance, overhead cranes are commonly used to handle heavy loads. The cranes are not only beneficial for moving heavy materials, like camper frames and floors. They also minimize tripping hazards on the workplace floor by keeping the wires and machinery overhead.
In addition to these cranes, we also implement a verification program called Lock Out, Tag Out, Verify (LTV). The LTV program only provides access to verified individuals to use certain types of equipment. These individuals have undergone training specific to these jobs, which maintains safety in the workplace by assigning tasks to educated team members. Once these team members undergo training, they are then verified to access the machinery.
Efficient and Safe Metal Cutting
The introduction of a new metal saw in the metalworking shop has significantly improved efficiency and safety. Our new saw replaced the chop saw and allowed for our operators to cut many pieces of metal at once. Not only does this optimize productivity, but it enhances the safety for our team members. It is automatic and heavily guarded, which allows the operator to step back while the saw continues to perform the work.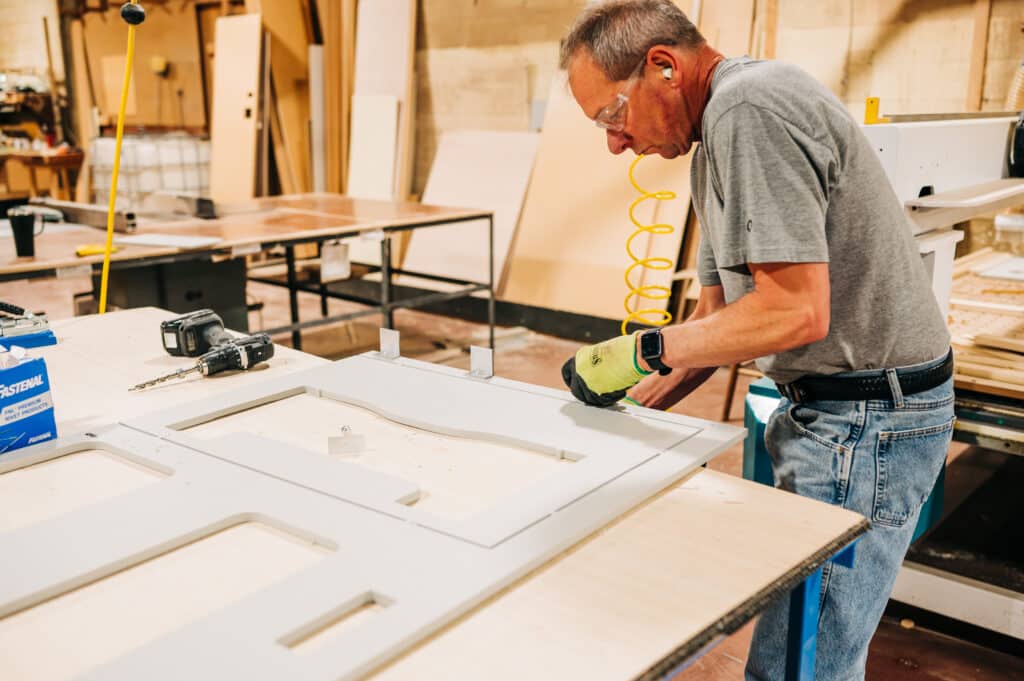 Provision of Safety Equipment
Providing appropriate safety equipment is essential for safeguarding employees' well-being. Personal protective equipment (PPE), including safety glasses, gloves, and earplugs, is always readily available and mandatory for our team members. Team members that are working in the woodshop, metalworking shop, box build, or CNC operation are required to wear ear protection that is provided by Aliner. Everyone in the production plant is also required to wear safety glasses, which are always available to keep the team safe.
Comprehensive Employee Training
Investing in thorough and ongoing employee training is a fundamental aspect of workplace safety here at Aliner. All workers receive comprehensive training, known as Haz Com, or Hazardous Communications when they first begin working here. This training informs all employees the types of chemicals associated with the employees daily function such as: Silicone adhesives, isopropyl alcohol, lubricants, cleaning supplies etc.
As team members continue their work at Aliner, they are also encouraged to stay updated on changes and updates to the practices. We provide information and ongoing training as new equipment is introduced or new safety equipment is implemented.
Cleanliness and Organization
Maintaining a clean and organized workspace is essential for promoting safety in any manufacturing facility. Regular cleaning and tidying up help prevent slips, trips, and falls. We encourage our team members to keep clear pathways, proper storage of materials, and well-organized work spaces each day on the job.
In addition to keeping an organized workspace, we also provide the following systems to reduce workplace hazards:
Waste disposal system
Rigorous floor cleaning procedures
Use of proper safety signs
Supervision of work practices
These procedures help us keep our team members safe on the job each day, which allow us to focus on providing a quality product and keeping customers satisfied.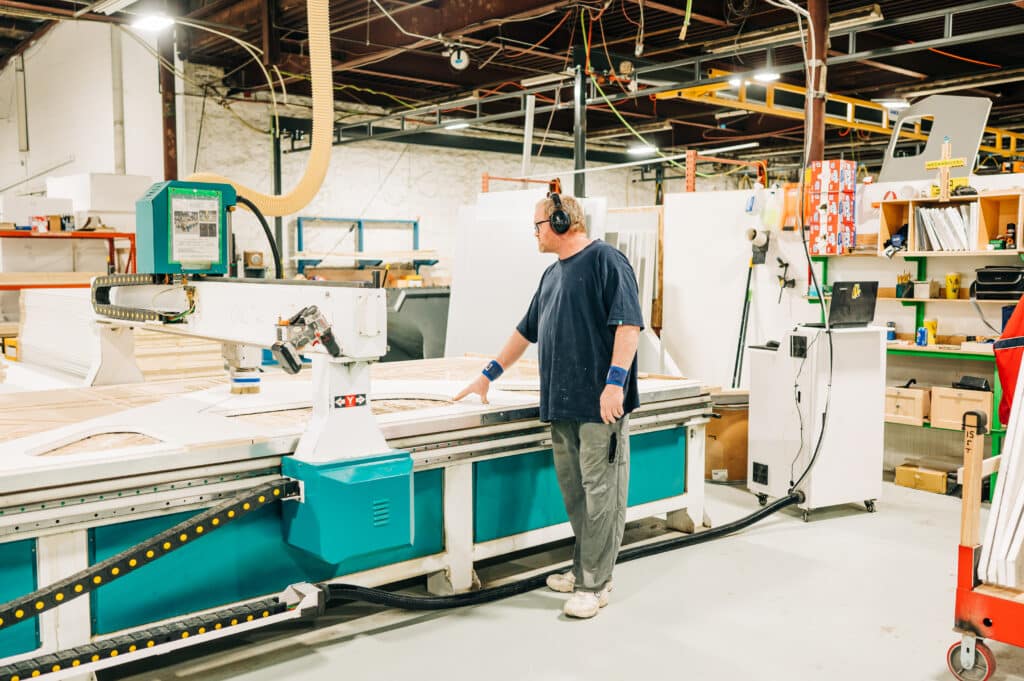 Adherence to Industry Regulations
Strict adherence to safety regulations, such as those set forth by the Occupational Safety and Health Administration (OSHA), is essential for camper trailer manufacturers. Compliance with OSHA guidelines ensures that safety protocols and procedures are in place to protect employees from known workplace hazards. Regular audits, inspections, and timely corrections of any identified safety issues are necessary to maintain a safe working environment.
We also work closely with other industry organizations, like the RV Industry Association, to promote innovation, stay updated on legislation, and continue advocating for the safety regulations of our team members. While working with these organizations, we stay vigilant and informed about critical information that affects our workflow and production practices. We also adhere to RVIA standards of the RV industry to ensure each camper meets the requirements set forth by RVIA safety standards. RVIA technicians continually audits the process on a monthly basis.
Prioritizing workplace safety not only protects the well-being of our beloved Aliner team members, but also enhances overall operational efficiency and regulatory compliance. Together, we strive for a safer manufacturing industry and ensure the well-being of those involved in crafting our high-quality A-frame camper trailers enjoyed by countless Aliner adventurers.