Join the EV Revolution with Aliner: Amp | Aliner Amp Brochure
Introducing the latest innovation in outdoor adventuring – the Solar-Powered Aliner Amp. Designed to blend sustainability with comfort, this cutting-edge trailer redefines how we experience the great outdoors. The iconic Aliner structure provides ample space and efficient aerodynamics, while its solar-powered capabilities revolutionize off-the-grid living. Equipped with two 400-watt state-of-the-art solar panels seamlessly integrated into the dormer roofs, this camping trailer harnesses the power of the sun to charge its onboard amenities, including LED lighting, climate control, induction range cooking, and charging outlets. Imagine embarking on your wilderness journey with the freedom to explore remote locations without sacrificing modern conveniences. With the Solar-Powered Aliner Amp, you can embrace nature while treading lightly upon it, making your camping experience unforgettable and environmentally conscious.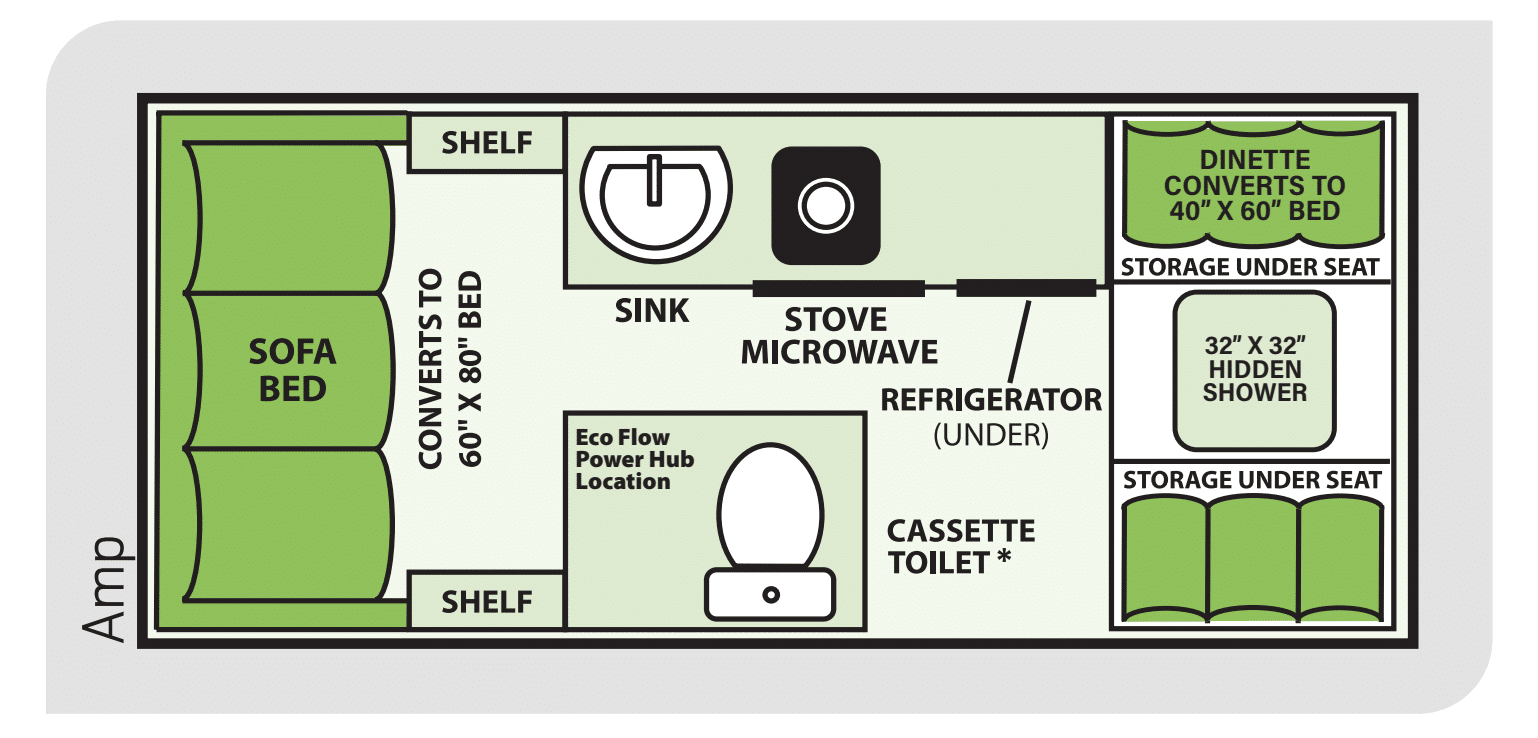 Floor Plan
| | |
| --- | --- |
| Overall Length (feet) | 18' |
| Width (inches) | 84" |
| Closed Height (inches) | 66" |
| Dry Weight (lbs.) | 2595 lbs. |
| Tires and Wheels | 15" Off-Road Wheels w/ Radial Tires |
| Gross Vehicle Weight Rating (GVWR) & Axel Rating | 3,500 lbs. |
| Dry Hitch Weight | 270 lbs. |
Note: "weight" and "dry hitch weight" are approximate values.
EcoFlow Complete Plug and Play 48 Volt Power System
2 X EF 400-Watt Rigid Solar Panels
Hidden Swivel Cassette Toilet
Interior Hidden Shower (32" x 32")
Dometic Refrigerator (3.0 cu. ft. Three-Way)
Stove Top (Flush Mount, 1 Burner)
Air Conditioning - Heat Pump