Maximizing the space in your travel trailer is an art, but one that can be fine-tuned and developed. Part of the reason why outdoor adventurers and footloose travelers opt for camping out of a travel trailer is to have the freedom to go anywhere, anytime and to save money to boot. Therefore, you are no stranger to living a simplified life, even if it is only for the weekend.
But how to really maximize the space in your small living quarters so that you can have room for all the essentials and even some of those non-essentials that make life more livable? Read on for 5 organizing tips for small trailer camping.
1) Rid Yourself of the Excess
Inventory everything you plan to bring and then thoughtfully categorize the following items into a level of importance. Those items that you use daily and several times a day are in the number one spot. Items that you might use several times over the course of your trip make it to number two. And then, those just in case items, that may or may not serve useful, are on the chopping block.
2) Be Organized
Every item should have a home. Determine where each item will reside and do a test run stocking drawers and shelves as you would while camping. If the shelves are overflowing and cabinets won't shut, resist the urge to place these items in an overflow bin on the floor. Make up your mind to only keep those items that both serve a purpose and have a designated space.
If your travel trailer comes with extra storage space under the bed or seating area of the dinette like this Ranger 12 with sofa bed from Aliner, you have extra space for those bulky items like blankets and pillows.
3) Camping Equipment is for Camping
Although it may be tempting to save money and use your everyday household items during your camping trip, you may find that this is overkill. This is especially the case with kitchen equipment. You can find smaller versions of common household items at your local outdoors store and those items specially designed for camping will be both lightweight and take up less space.
Nesting pots and pans designed for camping will be lightweight and have swivel arms that allow for easy storage. And even though your trailer might have electrical outlets, you may find that your 12 cup coffee maker or 4 slice toaster takes up all available counter space on your tiny counter.
Therefore, opting for smaller design items that accomplish the same purpose and perhaps can be adapted for use on a campfire will leave you more space in your trailer for stretching out your legs.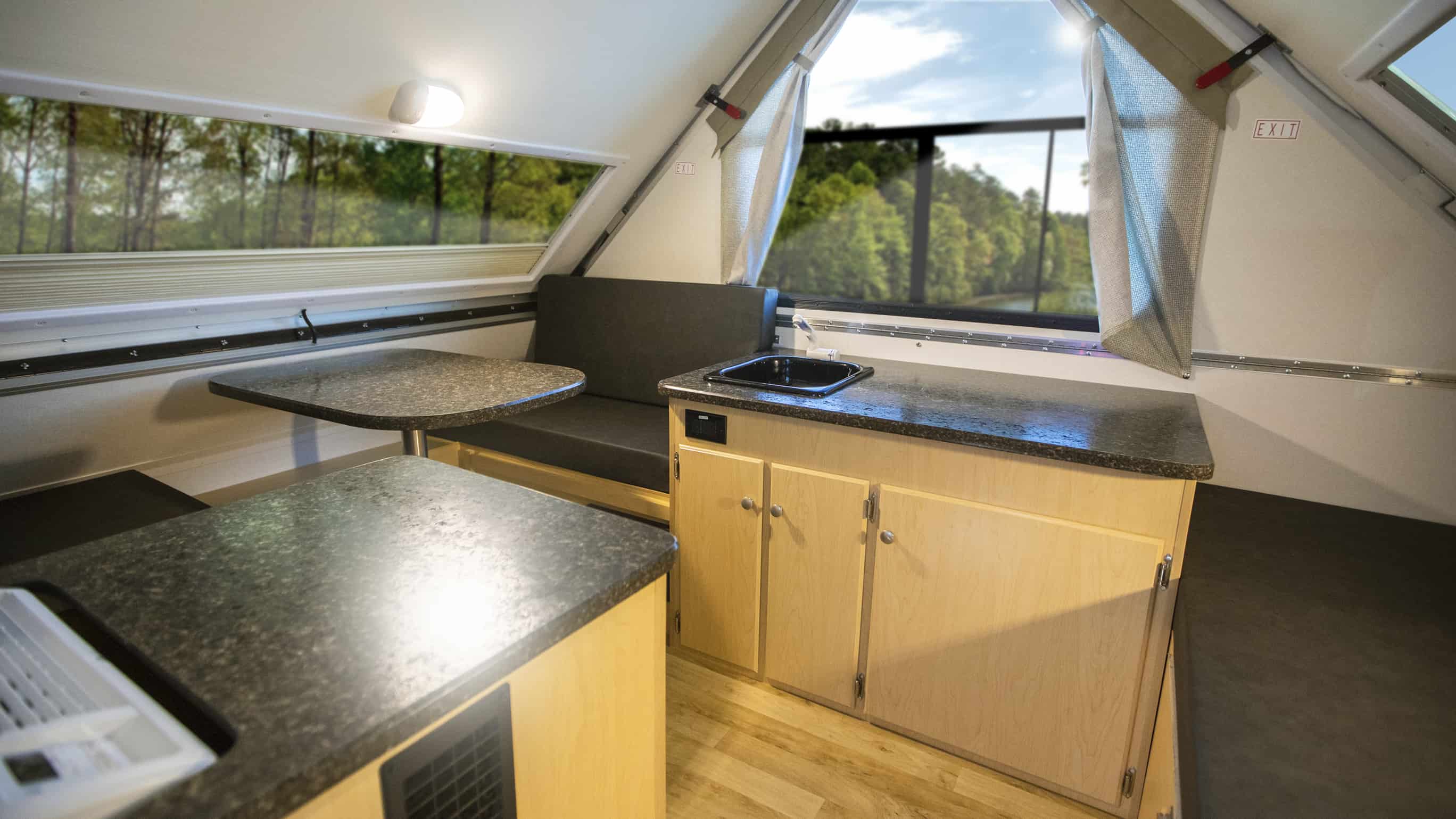 4) All the Nooks and Crannies
Having cabinet space is a bonus but can even serve to contain more than you imagined. The Aliner Scout is one of the many models that come equipped with a storage unit. Certain adjustments can help you to maximize extra storage space like storing items on the back of cabinet doors by using hanging baskets like this one or ones that are secured to the door by suction cups. Using stackable storage container shelves will also allow you to use the full interior space of the storage area.
The Classic edition Aliner comes equipped with a permanent 56″x 76″ bed that allows for ample storage underneath. This is the perfect spot for plastic storage crates or packing cubes that allow you to cram loads of stuff into one pack and compress it for compact storage.
5) Stack Under the Shelves
That's right, shelving units aren't just for stacking items on. With under the shelf hanging baskets, you can both stack items on the shelf as intended and store extra items in these plastic baskets that attach onto the shelf with no tools required. You can also attach a hanging fruit hammock to kitchen shelves to keep fruits and veggies off the limited countertop space.
6) Learn How to Multipurpose Items
Hanging shoe organizers and jewelry organizers isn't strictly for your high heels or string of pearls. While camping, these organizers can be used to store bathroom toiletries, first aid equipment, kitchen utensils and so much more. And with the attachment of a suction cup or stick-on adhesive hook, you can easily place these items where they are most needed for easy access.
With spring still a few months away, this is the perfect time to get organized and plan your next camping trip. Starting to inventory now and experiment with different packing methods will ensure that you can simply focus on having fun when it comes time to take to the road. Check out Aliner's various models and available storage space each camper has to offer.